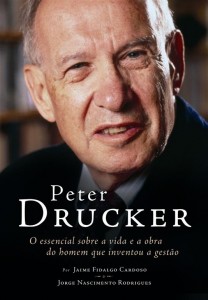 Peter Drucker. Much has been said and written about him. Among other things, he has been called 'the father of management'. The New York Times  once said that the story of Peter Drucker is the story of management itself.
And, this year they are celebrating his Centennial (100 years of his birth). Here's a perspective.
On a personal note
In the 1970s, when I was but at school, my dad, who was then a senior middle manager at a public sector firm, was nominated to attend a six weeks management development program at the Administrative Staff College of India (ASCI), Hyderabad. I remember him bringing back two or three books, of which one was Drucker's The Practise of Management. This book then formed part of our home library.Over the next few years, I must have perused this book a few times.
In later years, when I was about to graduate with a B.Tech. degree and had to choose between two fields, an MBA at the Indian Institute of Management and  a post-graduate in engineering in the United States, I remembered this book. Though I could not quite appreciate all that it said, I had liked it, it's writing style. It was a factor in my belief that management was an interesting subject and worthy of study, in preference to a post-grad engineering degree in the United States.
It's said that The Practise of Management, written in 1954, was the first to view management not just as a science or set of techniques but as a 'practise' in a human environment. It enunciated three  questions, now considered classic. What is our business ? Who is our customer ? And what does the customer consider value ?
On Drucker's impact on marketing
Which brings me to a less celebrated aspect of Drucker's work. The influence he has had on the field of marketing.
Some of his quotes :
'The purpose of business is to create and keep a customer".
"Because the purpose of business is to create a customer, the business enterprise has two—and only two—basic functions: marketing and innovation." –
"The only profit centre is the customer."
"Marketing is not a function, it is the whole business seen from the customer's point of view."
"Marketing and innovation produce results : all the rest are costs".
"The aim of marketing is to make selling superfluous. The aim of marketing is to know and understand the customer so well that the product or service fits him and sells itself."
On what caused Drucker to become customer-oriented
In the 1930s, Drucker started writing for business magazine Fortune. Fortune was founded by Henry Luce, who had earlier started Time magazine. Prior to Fortune, business magazines were but trade journals giving numbers and stats in black and white. While running Time, Luce encountered many businessmen whom he felt needed help, in particular a perspective in examining their own values, goals and biases. Luce launched Fortune in Feb 1930, just four months into the Great Depression (so confident was he of his value proposition). It was made a large-sized glossy and bore a price of $1 per copy, at a time when even a premium newspaper like the New York Times cost 5 cents. The magazine quickly achieved a circulation of 30,000. To Luce, businessmen were customers and he had something of value to offer them.
Another successful venture of Luce was Life magazine, launched in 1936. Luce edited his magazines himself. He had the hallmark of a great editor in that he could see his magazines from the eye of his readers, and quickly identify what was likely to appeal to them. For example, he could quickly select from among dozens of photographs, the handful that should be put up for publication in Life.
What Drucker drew from his association with Luce was the conviction that an outside-in perspective is essential for business success. The customer lies outside the organization and it is the prospect of providing him with value that gives the corporation purpose, and it is the satisfaction of the customer's requirement that gives it results.This proposition is sometimes known as the marketing concept.
On the fate of the 'outside-in perspective'
Somewhat tragically, however, the  marketing model which gained the most currency the last many years is the 4Ps approach or the marketing mix. One of it's  greatest limitations is that it emphasizes the inside-out view (looking from the company outwards), whereas the essence of marketing should be the outside-in perspective.
Drucker himself did not create any explicit marketing model (tools) for marketers to get this outside-in perspective. He would however ask his clients (consulting) and students (case studies) questions about the customer. The two most important questions asked (first raised in the classic The Practise of Management) :
Who is your customer ?

What does the customer value ?

More description of his technique requires a separate post.
Kotler on Drucker
Philip Kotler says some people call him the "Father of Marketing", he tells these people in that case Peter Drucker is the "Grandfather of Marketing". Kotler also once called Drucker the most impressive man I have ever met .