This second post in the series is on the Pizza Hut and KFC company, Yum Brands. This is a company with  aggressive intent. Before looking at the India operations, let's take a helicopter view to see where Yum 'comes from'.
Yum Brands
First, digest this. There is something about the year 1996 and India's fast food market. Three leading (arguably the top three ) fast food brands in India today viz. McDonald's, Pizza Hut and Café Coffee Day, all commenced operations in India in the same year 1996!
McDonald's was covered in the previous post. Pizza Hut is owned by Yum Brands (Yum), a Fortune 500 company that also owns KFC, Taco Bell (Mexican), Long John Silver's (seafood) and A&W (a minor brand).
Pizza Hut, KFC & Taco Bell were earlier owned by Pepsi. In 1997, Pepsi having nurtured the fast foods business for many years, spun off these three brands into a new entity, later christened Yum Brands.
Yum is the second largest QSR company worldwide in terms of revenue, after McDonald's. In terms of number of restaurants, they claim to be number one globally, with 36,000 numbers as against McDonald's (32,000) and Subway's (also 32,000).
At $11.3 Billion in revenue in 2008, Yum Brands is about half the size of McDonald's (revenues $23.5 billion), however.
International focus
Yum's core brands viz. Pizza Hut, KFC and Taco Bell each trail McDonald's and several others in the home (U.S.) QSR market. Also, the U.S. market is under pressure due to the downturn in the economy. Consequently, Yum is focused on the international market.
Yum is uniquely structured as 3 separate Divisions, one for the U.S., one for China and one for the rest of the world (International) : these three currently bring in approximately 5, 3 and 3 billion dollars in revenue per annum respectively. 60% of their operating profit is from overseas.
Yum has about 33,000 outlets of which 20,000 are in the U.S., 3,000 in China and 13,000 in International. The company believes it can grow to 40,000 outlets internationally and, separately, to 20,000 in China alone.
This means potentially Yum can be a 80,000 outlet company (assuming very conservatively no growth in U.S outlets). In 2008, Yum added about 1,500 outlets worldwide. Given that they currently have 36,000 outlets, the above rollout can take them nearly 30 years!
India is going to be Yummy
India? There are 147 Pizza Hut and 52 KFC restaurants i.e. 199 Yum restaurants in India today, per available information. With this number, India currently ranks 16th by the number of restaurants in Yum's portfolio of 110 countries.
Yum is targeting 1,000 outlets in all from India by 2015. If this sounds small in relation to their global plans, consider this: this target is considerably higher than that of other QSR brands for India. (We dwell on plans of other brands in subsequent posts). They are setting aside $150 million for investment in India between now and 2015 and seeking a revenue (in '15) of $ 1 billion.
And, unlike McDonald's, India does get a fair mention in the company's plan (Yum Annual report 2008). You get the feeling that the India operation is getting a fair bit of attention as part of an overall BRIC strategy.
Accordingly, in a move of some symbolic significance, Yum's 13,000th International restaurant, a KFC, opened recently in Saket, Delhi. And it was a KFC with a new touch; they've brought in their new Kruger drinks line there.
In addition, there is the Micky factor. They have Micky Pant as their Global Brand Officer (you may have heard of him in his earlier avatar Muktesh Pant : he used to run marathons while he was at Reebok India). This highest ranking Indian in the Yum hierarchy is responsible for International marketing and the Yum brands.
But China is much more Yum
If you think India is coasting along fine, spare a thought for China. As mentioned above, Yum is targeting 20,000 units in China; they say they want China to be as big as McDonald's is in the U.S.. Today, Yum's China revenues are comparable to the revenues from the rest of the world.
In China, Yum currently has 3,000 outlets, with KFC across 500 cities and Pizza Hut across 100.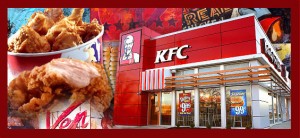 Of the 20,000 outlets targeted in China, they are looking at 15,000 outlets for KFC, 5,000 for Pizza Hut Home Service (which is the same number competitor and pizza home delivery leader Domino's Pizza has in the U.S.) and 2,000 for Pizza Hut Casual Dining (which is the number the U.S. casual dining leader Applebee has in the U.S.).
They have also created a new local brand for (guess what) Chinese fast food (what else 🙂 called East Dawning.
Note: We haven't heard of any vada pao, pao bhaji, paratha or idli dosa initiatives from Yum yet.
Why does Yum do better in China
The lack of a cold chain outside select locations is considered to be a factor hindering QSR rollouts in India. I wonder whether the expansion in China is because they have developed such a cold chain by virtue of the infrastructure advantage China enjoys. Yum is present in just 39 odd cities in India as against the 500 plus in China.
Or, is Yum available in more cities in China because the average city there is larger ?   Or, because of the higher per capita income ? Or, is it all of the above ?
China has just 660 cities of which as many as 171 have a population of over a million each and another 279 have a population between 500,000 and 1 million (2002 data) . India has over 5,100 cities as per Census of India, but only 35 odd are over a million in size and another 50 odd are between 500,000 and 1 million (Census of India, 2001).
It's not only Yum (Pizza Hut and KFC) . Most food services chain in India have not gone beyond 50 cities yet (exception : Cafe Coffee Day).
In China, Yum is available in 500+ of the 660 cities already. No wonder, they are talking of 20,000 units there.
In contrast, by 2015, Yum is planning to be available in just 62 cities in India, up from current 39.
Here is a recent report on culture innovation that is underway at Yum Brands.
More on Yum's operations in India in the next post.